Anthony Haynes writes: In my previous post I made the case for regarding Beer & McMurrey, A guide to writing as an engineer (Wiley) as a professional how-to resource, rather than (despite appearances) a textbook.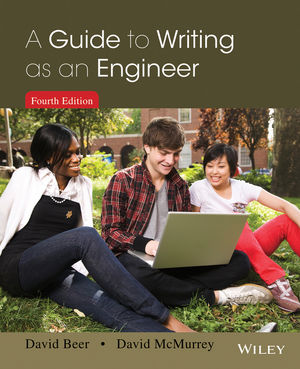 And as a how-to resource it works very well.
Several aspects of the guidance the resource provides appeal to me, notably:
The guidance is customised to the audience. For example, the guidance on writing in general is presented in an idiom that will appeal to engineers. It focuses on 'efficiency' in writing, for instance, and on how to avoid 'noise' (i.e., those things that, from the reader's point of view, get in the way of the message).
Much of the guidance is genre-specific. Genres that feature largely in engineering writing — for example, reports, instructions, correspondence, and job applications, together with the use of tables and figures — receive substantial treatment.
Resources often lump various kinds of reports together, talking only of 'report writing' in general. A guide to writing as an engineer, in contrast, distinguishes between various kinds of report — for example, inspection and trip reports, field reports, progress reports, research reports, recommendation reports, and design reports.
The book, now in its 4th edition, has been updated to include contemporary forms of communication — for example, email, messaging, content management systems, and online text, including blogs and Facebook pages. My experience of providing consultancy to corporations suggests that such guidance will be welcome.
The overall approach is pragmatic. The authors focus on showing readers how to achieve desired outcomes, without undue theoretical discussion of the underlying whys.
The guidance is evidently rooted in experience and embodies a good deal of wisdom.  The point-by-point guidance is informed by an awareness of what kinds of things all too often go wrong in engineering communication.
Despite the title, the guidance is not limited to writing. There's also material on reading (Chapter 8 is entitled 'Accessing engineering information') and speaking (and even — on one page of the chapter on presentations — on listening).
Sooner or later, if Wiley continue to publish new editions (as I hope they will), the book should be retitled as A guide to communicating as an engineer.